Racing game seats
that fit all kinds of steering wheels
No matter whether your racing wheel includes an external gearshift unit or not, here you will find just the right racing seat for your gaming needs. The only condition is that the wheel of your choice must come with a separate pedal platform. Again, it doesn't matter whether the pedal unit connects to the wheel base via a cable or wirelessly.
OpenWheeler works with 99% of all steering wheels available on the market, including the popular Logitech Driving Force GT and Thrustmaster T500 RS wheels. Such models do not require a separate gearshift holder. OpenWheeler+, on the other hand, does have a special holder for an external gearshift module, which makes it best suited for wheels such as the Logitech G25 and G27.
Both OpenWheelers are compatible with all major video game consoles, including PlayStation 3, Xbox 360 and Wii, as well as with all personal computers that allow racing wheels to connect to them.
Designed with ergonomics in mind, the two OpenWheeler models feature a telescoping steering column (you can regulate the height of the wheel), a foldable seat back (you can fine-tune the seat back angle), an adjustable pedal platform (you can change the distance between the seat and the pedals), as well as sliding rails (you can slide the seat backwards and forwards until you find the ideal driving position).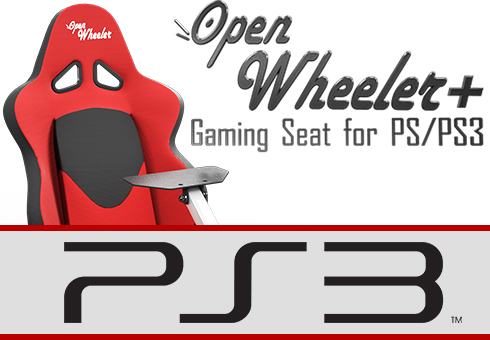 PlayStation is the best known console series by Sony for almost two decades. A huge variety of steering wheel sets is offered by many. We aim to present you the top-quality ones. But OpenWheeler simulator seat does not rely merely on what is normal and what is familiar. Made of high grade materials, fully adjustable and durable, it has everything you need in a simulator. Yet many pleasant surprises in store as well. Whether it's the exclusive OpenWheeler or its Gear Shifter Mount, OpenWheeler+ version you choose, full satisfaction and sheer driving pleasure are guaranteed. Take a look at our selection and customized bundles with a discount of up to